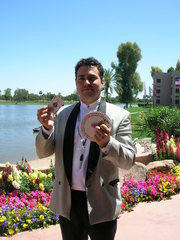 Magicians
Entertain groups of children and adults with slight of hand, silly tricks and comedy.
Show runs about 30 minutes and includes lots of audience participation.
Your kids will love being volunteer helpers.
Who knows? The Birthday Child might even be the star of the show. Time slot allows for set preparation and pack up.
Our Magicians are able to perform in any venue.
Call 480-820-8030 for details.
1
Call or email us with any Questions. Be sure to leave an email address & phone number or we can't reply.