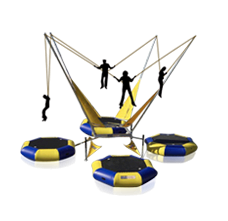 Euro Bungee
How high can you fly?

This 4 station Euro Bungee allows 2 people to participate at a time. Riders can do a variety of aerial aerobatics just like they see circus performers doing but with the safety of bungee cords attached to their harness.

Riders are jumping on an inflatable air mattress to absorb the landings and propel them to new heights. Jumper can try multiple flips, and may jump as high as 25 feet. Great addition for your party or event.
Rate up to 3 hours and includes staff.
Call or email us with any Questions. Be sure to leave an email address & phone number or we can't reply.