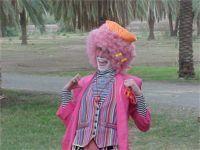 Clown
Our sweet, friendly Clowns add that festive atmosphere you are looking for.
Bringing a smile to a child's face is what our clowns do best.
These talented folks provide a one hour Birthday Program, entertaining up to 12-14 kids with Face Painting and Balloon Animals.
Longer programs are available for larger parties.
Available for party rooms also.
Call for 480-820-8030 for details.
Call or email us with any Questions. Be sure to leave an email address & phone number or we can't reply.