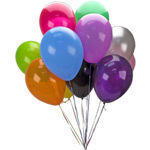 Balloon Bouquet
A Bouquet of Helium Balloons (aprx 10) delivered to your party.
Use to decorate, give as a gift or use as take home treats for your guests.
Multi-color Balloons are standard. If you have a specific color request, just let us know.
Call or email us with any Questions. Be sure to leave an email address & phone number or we can't reply.