Setup area: 6' x 6'
Actual Size: 4' x 4'
$225 Porta Potty Rentals
When planning an event of any size its important to take care of the details.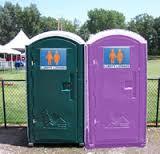 Among items sometimes overlooked are adequate restroom facilities. Avoid any accidents by having capacity to provide for the convenience and comfort of your guests.

Remeber, long lines detract from all the fun you've worked so hard to create (and your event goers can't spend their money if they spening all their time waiting).

Ask us about discounts for 5 or more or for multiple days.