Introducing our Customer Referral Program:




Would you like to save money on your next party?
How about having free entertainment at your next event?
When you signup to become an affiliate with us and refer people you know to do business with us you will earn a $10 credit for each person who has a party or event with us. When it's time for your next party you will have that credit waiting for you to spend.

There is no limit either, meaning if three friends you refer have a party with us before your next party date you'll have $30 to use towards what ever you like.

All you have to do now is signup on our simple affiliate registration form. After you fill out the form we'll immediately create your account and send you your special tracking links.

Use these links to your friends or post them in places such as Facebook, Twitter, or any other social media outlet you use. When your friends click on those links to visit us online we will be able to track that activity to your account.


Make sure to put in a good word for us and tell your friends to click on the link to check us out. That's all there is to it!!

After we bring on one of your referrals as a customer you will earn a $10 credit from us!

(Please note: Your username will appear in the link that is created, so be sure not to use anything you wouldn't want your friends or strangers to be able to see)
Join our Birthday Club and receive special member discounts!
Membership in the Birthday Club is always free and there is no minimum membership commitment, you may cancel at any time.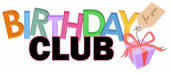 ---
Here's what some of our customers have recently had to say about us:
---

Shannon P. 03/05/15
I was happy to find that you had the Teenage Mutant Ninja Turtle bounce house that my 6 year-old really wanted for his birthday party. Also, the gentleman who came to set up the bounce house was very friendly, professional, and made sure I knew what to do in case of an emergency.
---

Donna B. 02/26/15 The party was for my granddaughter who turned 4, she loved the pony. It was wonderful. Also your staff was very professional and nice, good with the kids and watched out for their safety. If I had the money I would do it again. Thank you for making this big day a special one, and thank you for the great customer service.