Rent a Water Slide for your Next Party or Event
With everything else you have to worry about when planning a party in Arizona, the most important question is:

"What are you going to do with a house full of kids?"

Solve that problem this spring by renting a Water Slide for as low as $149

From Giant Slip n Slides to Water Tunnels, Backyard Water Slides to huge 22' Tall Ones; A Child's Joy offers the widest variety of Water Inflatables and Attractions in Arizona.

*PARTY HINT - Save money and reserve your Water Slide for a midweek staycation.




The rest of the Country wonders how we handle these Hot Arizona Summers.....

One word: Water Slides!!

(Whoops, I guess that's really two words)
Water Slide Rentals anywhere in Arizona
July Special: We'll deliver your Water Slide Friday or Saturday.
Keep all weekend and we will pick it up Monday for $99 more.
Call us for more details.
---





Save Money with Discount Water Slide Party Packages

Everything you need for creating the perfect party!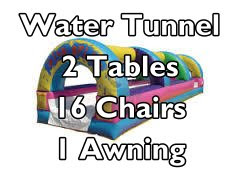 This package has everything you need for a fun and cool party. Select one of our Awesome Water Tunnels It come and we will deliver 2 Tables, 16 Chairs and an Awning with it.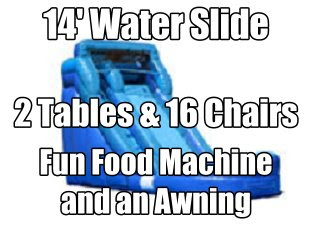 Take your party to the next level with this Water Slide Package. Chose one of our cool Backyard Water Slides and receive 2 Tables, 16 Chairs and an Awning too. We will even throw in a Fun Food Machine!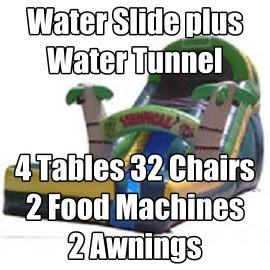 Don't settle for anything but the Best. This ultimate Water Slide Party Package comes with one of our Large Water Slides plus a Water Tunnel, 4 Tables and 32 Chairs. Top it all off with two Food Machines and two Awnings.
Safety is our top priority
The safety of your children is the most important concern we have at A Child's Joy. Water Slides are tall and if they are not properly installed can be unstable and put children at risk.

Its imperative you're doing business with a properly licensed and insured legitimate company that has trained employees who care about the safety of your children and your guests.

Don't settle for "a guy my friend knows" who rents cheap uninsured Water Slides out of his garage to make extra cash on the weekends.

Your family deserves the peace of mind that comes with knowing you've found the right people that can help.
Looking for a Water Slide Rental for this Weekend?
Yes, we still have some left for the upcoming weekend

July 22nd- July 23rd

Call us at 602-820-8030 for last minute bookings.
We can deliver today on short notice

Ask about our Special Deals for Week Day Parties and Events
"The Easiest Party You'll Ever Have"
Licensed & Insured for your Protection
Event date fast approaching? Last minute bookings are no problem, call Laurie at 602-820-8030 and she'll save your party!
A Child's Joy - Quality Children's Entertainment since 1990
Call or email us with any Questions. Be sure to leave an email address & phone number or we can't reply.