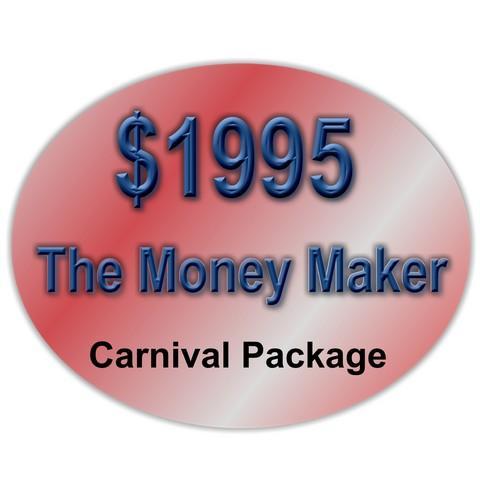 Outlets: [12] 15amp circuits
Especially created for mid-size schools looking for a Super Fundraiser

This package boasts nine Inflatable Rides & Games with high throughput.
Includes four Carnival Skill Games
Plus: Pop Corn, Cotton Candy & Snow Cone Machines

Complementary Wrist Bands
Electrical Generator
Supervisor on location


A nice mix of bouncing & sliding, with interactive inflatables and
skill games that can be used for fun or competing.

Price includes up to four hours. Each inflatable and each food machine requires power.
Food supplies sold separately. Package includes up to 500 wrist bands.
Does not include Taxes or Delivery/Setup

NOTE: If this package does not show for the date/Time of your event it means at least one item is booked.
Please call us at 480-820-8030 to discuss a substitute item.

(This package is available to keep all day during school hours ask us for details)





Bungee Challenge






Football Challenge

40' Obstacle Course

Pop A Shot



Home Run Derby






4 Carnival Skill Games

Pop Corn Machine
Snow Cone Machine
Cotton Candy Machine


Electrical Generator

Event Setup/Teardown

Wrist Bands
This package may also be customized call us at 480-820-8030 or email us for details
---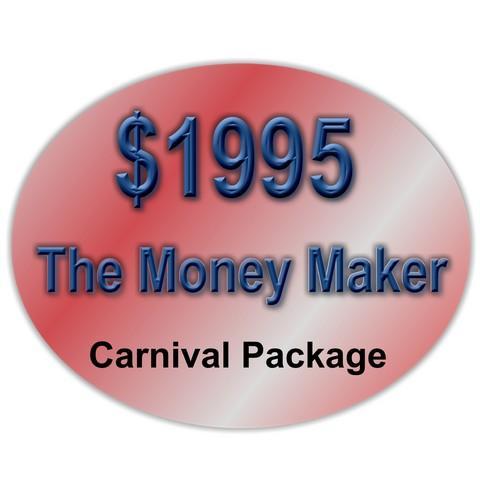 The Money Maker Carnival
Outlets: [12] 15amp circuits




Especially created for mid-size schools looking for a Super Fundraiser
This package boasts nine Inflatable Rides & Games with high throughput.
Includes four Carnival Skill Games
Plus: Pop Corn, Cotton Candy & Snow Cone Machines
Complementary Wrist Bands
Electrical Generator
Supervisor on location
A nice mix of bouncing & sliding, with interactive inflatables and
skill games that can be used for fun or competing.
Price includes up to four hours. Each inflatable and each food machine requires power.
Food supplies sold separately. Package includes up to 500 wrist bands.
Does not include Taxes or Delivery/Setup
NOTE: If this package does not show for the date/Time of your event it means at least one item is booked.
Please call us at 480-820-8030 to discuss a substitute item.
(This package is available to keep all day during school hours ask us for details)



Bungee Challenge






Football Challenge

40' Obstacle Course

Pop A Shot



Home Run Derby






4 Carnival Skill Games

Pop Corn Machine
Snow Cone Machine
Cotton Candy Machine


Electrical Generator

Event Setup/Teardown

Wrist Bands
This package may also be customized call us at 480-820-8030 or email us for details
---