Farm Animal Prize Stickers
Farm Animal Prize Stickers
$8 per roll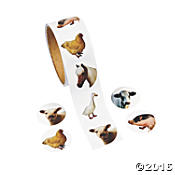 A roll of 100 farm animal stickers.
Use these as prizes for game winners/participants. Add to Goodie Bags.
Pass out as take home gifts, party favors or use in a craft project.

$8 per roll of 100 individual stickers.

These stickers also come in rolls of Zoo Animals, Tropical Sea Life, Dinosaurs, Horses, Puppies and Kitties.
You might also like our
Farm Animal Toy Prizes
Call or email us with any Questions. Be sure to leave an email address & phone number or we can't reply.